Shirley Baker (1932 – 2014) was one of Britain's most compelling yet underexposed social documentary photographers. Her street photography of the working-class inner-city areas, taken from 1960 until 1981, would come to define her humanist vision. Shirley's curiosity and engagement with the everyday world around her resulted in many different strands of work, many of which are yet to be exhibited, each of which confirms her acute observation, visual humour as well as compassion for the lives of ordinary people as distinctive in its exploration of post-war British culture.
"It has always astonished me how quickly things can disappear without a trace."
Shirley Baker was born in Salford, near Manchester. She took up photography at the age of eight when she and her twin sister were given Brownie cameras by an uncle. Shirley's passion for photography stuck and she went on to study Pure Photography at Manchester College of Technology, being one of very few women in post-war Britain to receive formal photographic training. Upon graduating, she took up a position at Courtaulds the fabric manufacturers, as an in-house factory photographer. Working in industry did not meet her photographic ambitions in wanting to emulate a 'slice of life' style similar to that of Cartier-Bresson. She soon left to take up freelance work in the North West. Further study in medical photography over one year in a London hospital did little to settle her ambition to work as a press photographer. Hampered by union restrictions on female press photographers, she abandoned plans to work for the Manchester Guardian. Though she took up teaching positions in the 1960s, ultimately it was in pursuing her own projects where she came to feel most fulfilled.
Free from briefs from picture editors, Shirley gave herself time to observe and make her own pictures, resulting in collections of photographs that explore British society in transition following Word War II and leading up to the more materialistic 1990s.
"I never posed my pictures… I can remember seeing this graffiti and thinking it was rather artistic, but I wanted a human face. A little boy was about to walk past, so I waited and took one shot."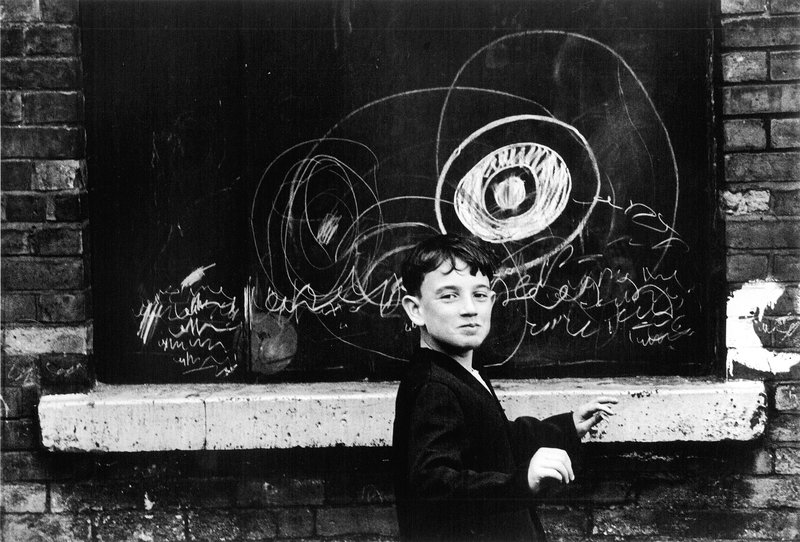 Throughout the 1960s and 1970s she continuously photographed a range of humanist subjects, sparked by her amusement and curiosity of human character and behaviour, and a compassion for social injustice. However, it is her empathetic but unsentimental photographs of inner-city working-class communities in Salford and Manchester as they experienced years of 'slum' clearance that has come to define her distinct vision. This twenty-year period sees Shirley evolve her ideas of documentary form and subject matter, and includes a startling body of colour work taken in Summer 1965.
"My sympathies lay with the people who were forced to exist miserably, often for months on end, sometimes years, whilst demolition went on all around them." (Shirley Baker, on the slum clearances of inner Manchester and Salford)
Throughout the 1960s and 1970s she often submitted her work to the Manchester Guardian, Amateur Photographer, Cheshire Life, The Lady and various travel magazines. Her inner-city street scenes were also used by various council departments for public information exhibitions. In the 1980s, when Shirley's doctor husband's work took them to London for a time, she photographed punks in and around Camden and the West End. She also briefly photographed in Japan and America.
It was not until 1986 that her photographs would come to wider public attention with the exhibition Here Yesterday, and Gone Today at Salford Art Gallery, a collection of photographs that make visible the spectrum of human resilience within the working class communities of Salford and Manchester. In 1989, Bloodaxe community press published Street Photographs: Manchester and Salford, which first brought the works of Shirley Baker to national critical attention.
In 2000, her street photographs were exhibited again, this time contrasted with the paintings of Salford-born early C20th artist LS Lowry, in an exhibition to celebrate the opening of the Lowry Centre in Salford. There was an accompanying publication called Streets and Spaces: Urban Photography.
"After all, what is history if it is not an imagined past – a collection of facts, which are viewed and interpreted in the light of our own experiences."
Ten years later, two retrospective exhibitions took place in Salford and Oldham. But it was not until 2013 when curator Anna Douglas was researching photographers of the early 1960s, that she by chance came across the Lowry centre's website and discovered Shirley Baker. Anna then featured Shirley's work in her exhibition in Nottingham, Saturday Night Sunday Morning: the authentic moment in British Photography, which brought Shirley's work to wider critical attention.
Shirley's first London solo exhibition Women and Children; and Loitering Men took place at The Photographer's Gallery, London in 2015. This was also curated by Anna Douglas and was one of the gallery's most highly attended exhibitions. The accompanying book was also a success and the first and second editions sold out before the end of the show. The exhibition showed in Madrid for Summer 2016 and is currently on show at Manchester Art Gallery until 28th August 2017 .
The Photographers' Gallery also featured some of Shirley's street photographs on their stand at Photo London 2016, a major annual international photography fair held at Somerset House.
Coinciding with Photo London in May of 2016 Photofusion launched On the Beach – an exhibition of Shirley's lesser known work from the 1970's. It comprised of photographs taken on the beaches of Blackpool – a northern English seaside town, and was contrasted with images captured on the beaches of the South of France. On the Beach, curated by Anna Douglas is currently on show at the Grundy Art Gallery in Blackpool until end August 2017
In November 2016 James Hyman gallery took a collection of Shirley's street photographs to Paris Photo the international art fair for photography held in the prestigious Grand Palais Museum.
In January – March 2017 several of Shirley's photographs were on show in an exhibition North: Identity, Photography, Fashion at Open Eye Gallery – Liverpool Waterfront, and this will be touring to Somerset House in London from November 2017 – February 2018.
Over Shirley's extensive career, she continued to observe the world around her. While her 'street photographs' may epitomise her career, there are other bodies of work taken over several decades, equal in quiet poetic drama and everyday humour. Over the coming years, we aim to introduce audiences to new bodies of work including children, older women, people with their pets, jazz clubs and much more.
This website is an evolving place in which to find out more about Shirley Baker and her work; we hope you will return to it often. We will feature the latest exhibitions, publications and a range of prints for sale.