Salford recently hit the headlines with its forward-thinking green credentials. Such an accolade has come as a surprise to many. As The Guardian states: one would expect that honour to go to the likes of Brighton or Bristol.
Instead, the 'dirty old town' is now honoured with the title of 'the greenest place to live'. And we're delighted that a similar article in the Manchester Evening News refers to Shirley Baker (see links at the bottom of the page).
The images of Salford as seen in Shirley's photos such as these featured below, are iconic shots of life taken as recently as the 1970s, however those high-rise council estates looming over the shells of bombed-out Victorian terraces are now also a thing of the past as Salford takes another leap forward to embrace a second rebirth with a cleaner, greener future.
Energy efficiency
Indeed Salford is now 'building the most energy-efficient homes and preserving more green space than any other local authority'. The city also has lower than average CO2 emissions and energy consumption levels and higher than average recycling rates. As a result it is the 'greenest place out of 363 councils assessed in a new report by the Centre for Thriving Places.'
The area that encompasses Salford has had much to contend with as it has tried to shrug off its often unwarranted reputation of being a crime hotspot. Salford Quays did much to transform the area and breathe new life into the run-down docklands.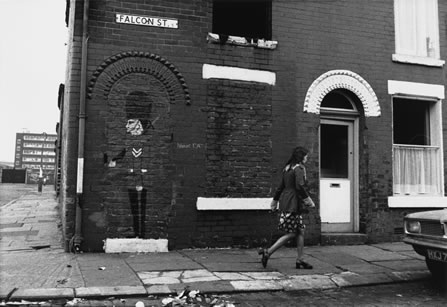 The impressive Lowry theatre and gallery complex has also enhanced the area's burgeoning reputation as an arts destination and has done much for community arts. For the official opening of The Lowry by Queen Elizabeth II and Prince Philip, Shirley Baker was commissioned to re-photograph the area in 2000 for an exhibition called "Salford Revisited". Those images can be seen in her book Street and Spaces. She was invited to show a selection of work at the gallery in order to 'twin' with L.S. Lowry (who she knew personally), as their work was seen to be compatible.
The BBC famously moved several of its departments 'up north' and relocated to the MediaCity complex, partly as a move to create jobs in the provinces and also to better serve and represent local communities.
LINKS TO FEATURES